http://socialbitcointrade.tokyo/

This site has been developed with the aim of invigorating the Bitcoin market in Japan. At SocialBitcoinTrade (SBT), users contribute their view by clicking on the "Buy" or "Sell" voting buttons. The site buys Bitcoin on an exchange if there are more "Buy" votes, and sells (credit sale or short sale) Bitcoin if there are more "Sell" votes. Bitcoin trades are currently executed on a domestic exchange called CoinCheck, which transacts in Bitcoin/JPY.
As an example, assume the site holds JPY 100,000 and 0.0 BTC.
If there are 70 Buy votes and 30 Sell votes, 70% of total assets will be used to buy Bitcoin on the market. In other words, a buy market order worth JPY 70,000 will be placed.
So what can market participants do to satisfy their Bitcoin trading desires?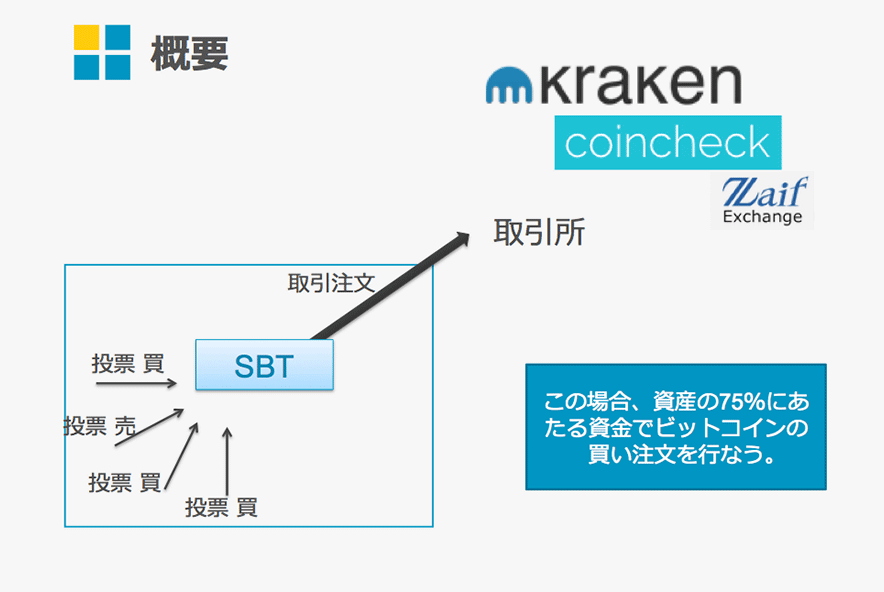 If you'd like the Bitcoin price to go up, clicking "Buy" multiple times may work for you.
The reason is as follows: As votes to buy Bitcoin increase, the amount of Bitcoin SBT will buy also increases. When Buy orders are sent from SBT to the exchange, the Bitcoin price rises. On the other hand, if you'd like the Bitcoin price to go down, you can click on "Sell".
SBT will send an order every 100 hours.
A buy or sell order will be sent from SBT to the exchange automatically after the countdown timer on the site turns to zero. Bitcoin investors can also attempt to pick off the SBT order.
Currently, SBT is funded 100% through my personal assets.
The current state of exchanges in Japan
Bitcoin transactions in Yen are relatively small compared to Bitcoin transactions worldwide.
80% of Bitcoin trading volume is in Chinese yuan, followed by 19% in US Dollars, and around 1% in Euro. The percentage of transactions in Japanese Yen is even smaller.
The lack of liquidity in the JPY/BTC market causes various problems, including a reduced ability to exchange JPY/BTC, and unstable prices due to price fluctuations when large orders are placed.
My goal is to make Bitcoin more popular in Japan by injecting liquidity and invigorating the market.
Date of Birth: April 11th, 1988
Address: Tokyo
Birthplace: Kita-kyushu, Fukuoka
Hobbies: Web and iOS app development
I've worked at an IT company in Tokyo since April 2013. I'm a web engineer, but am also interested in finance, stock trading, and FX.
In 2015, I realized that cryptocurrency, the value of which can be moved freely from place to place, is an amazing tool for an engineer such as myself. Around that time I began to develop related services.
Favorite programming languate: Scala
Favorite Bitcoin related service: blockchain.info
Sticker production cost and shipping
The remainder will be incorporated into the operating funds for SocialBitcoinTrade.